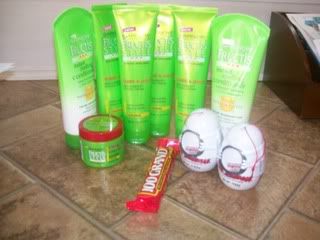 Here's the deal:
Select Garnier products are on clearance for $2.19, you can stack the Walgreens Instant Value Coupon $2.00 off one with $1.00 off one Manufacturer Coupon.
I got 7 Garnier Hair products, 2 Christmas candies, 1 100 grand, 1 gallon of milk and 1 banquet sausage and paid nothing out of pocket.
I actually picked up 2 lipsmackers that said $.65 each and I had $1.00 off 2 coupon I printed a few weeks ago from coupons.com. I questioned the cashier because I was thinking I was just going to pay tax but the total ended up being $5.03. I didn't think to have her double check the lipsmackers. I paid with $5 Register Reward. When I was walking out the door I looked on my receipt and saw the $2.59 twice and returned those, so I got back $5.50.
My walgreens still had a great selection so it isn't too late to get this great money maker!