I haven't shopped at CVS in quite some time, but with the Holiday coming I want to put some gift baskets together so I thought I would start this weekend. Since sales switch over Saturday evening I went ahead and went after Trick or Treating.
I have to say I was a bit rusty.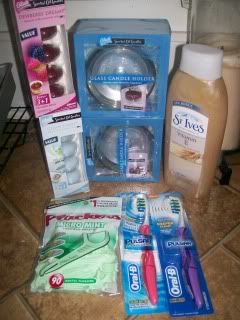 I did one transaction and had zero extra bucks to start
2 Glade scented oil holders 2/$5
2 Glade scented oil refills 2/$5
1 St. Ives Body Wash $3.99
1 Plackers Mint 90ct $2.99
2 Oral-B Pulsar toothbrushes $11.98
Total $28.96 plus tax
Used
.75 off Placker
$1.00 off St. Ives
$1.00 off Oral-B Pulsar
2 $1.50 off Glade scented oil holder
2 Glade Buy One Holder get refill pack Free (should have been $2.50 but looking at my receipt she took off max value of $3.99)
1 Oral-B Pulsar Buy One Get One Free
Total out of pocket $10.94
Saved $26.08
Got Back
$3 EB for St. Ives had a rain check and a coupon expiring today
$3 EB for Glade
$5 EB for Oral B
$2 EB for Plackers
Not too bad for just getting back into the game. Can't wait to get down to paying pennies out of pocket again!