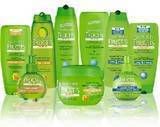 Starting today 1/4 you can Garnier hair products for FREE!!!!
In today's paper you will find 2 $1.00 off coupons for either Shampoo/Conditioner or styler. Walgreens has a monthly Instant Value Coupon found upfront in a booklet with the weekly sales flyer for $2.00 off Garnier hair prodcut. This coupon has a few exclusions so make sure you read it.
Garnier Shampoo $2.99
-$1.00 Manufacturer Coupons
-$2.00 Instant Value Coupon in booklet
$.01 overage
Make sure you get a small item, maybe Christmas candy clearance for .25 to cover any overage.
**I would limit 5 Garnier per transaction to avoid limit issues with cashier or manager and the instant value coupon will take off $2.00 for every Garnier, so no need to give mulitple instant value coupons.