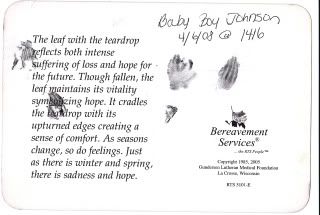 I have been a bit depressed lately because I have been thinking of the baby we lost 2 years ago.
We found out we were pregnant right before Cameron turned 3 months in 2007. We had no clue how far along I was so we had several sonograms which showed a healthy baby due at the end of August 2008. I was in a funk when I first found out. I was scared of having babies so close together and sad for Cameron because instead of enjoying his first we would be cooing over the new baby.
Two weeks before my sonogram I had my 18 week check up and the baby's heart beat was strong 150's range. I was given the paper to make my sonogram appointment. I made it that day for the soonest possible date which took us into 20 weeks. I though this was perfect, we would surely know if we were having a boy or a girl. I was just starting to deal with everything and get excited. To this point we didn't buy one thing for the baby. I had a shopping trip planned for right after we found out the sex. I was really hoping for a girl because we just had a baby boy.
On 4/4/2008 we went to our sonogram appointment. Chris and I sat in the waiting room for about 15 minutes. While we were waiting we discussed names. He was sure we were having a boy. We had decided on the name Sean for a boy and were still undecided on a girls name. We got called back and the tech talked to us about our other kids and was very friendly. As I lay there with her scanning my stomach I could see the screen but it didn't look right. I knew something was wrong. The tech said she would be right back. As Chris and I sat and waited what felt like hours I told him something was wrong and he tried to assure me the baby was fine. I think I may even have mentioned I didn't think I saw a heartbeat.
The tech and a guy came back into the room and he scanned my stomach. He delivered to us the worst possible news. "Your baby boy does not have a heartbeat, it looks as though he passed on a week ago" They left us to ourselves for abit and then came back to let us know we needed to wait out in the waiting room while they made some calls to see what we needed to do.
We were told to go see our OB and they would speak to us about options. My head was spinning, I was in so much pain. Blaming myself because I wasn't happy about being pregnant so soon after we had a baby.
When we got to the OB I had no clue she was going to tell me I actually had to deliver the baby. I thought they could go in and take him, this is how naive I was to the wholw situation. I was too far along to have them do a D & C yet not far along enough to consider him a baby that deserved to be recognized with a death certificate. We could either go in that day or come back. We wanted to go home and wrap our heads around what just happened.
It was a rough couple of days, the delivery was like actual labor but without the great result of taking home a baby. I still had to go through contractions, water breaking and dilating to 10.
We were told what he would look like when he came out and I searched the internet for images to prepare myself. I was deadset on not holding him but in the end he was my baby. I knew I would regret not holding him so I did. They wrapped him in a nice white blanket and gave him to me. He was tiny at 3.1 ounces and 7 1/2 inches long.
We never got real answers as to what happened. It was just something that happened. We were told it was best that he passed on if he had a heart defect rather than him going through pain living on earth.
We will always remember our Angel!