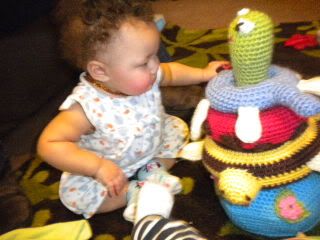 I have been so busy I haven't been able to blog. Sorry to all my faithful readers! Sometimes blogging is the highlight of my day. I enjoy sharing my crazy family.
Yesterday Macy had her 6 month well child check up, it's a bit late but life happens and we had to reschedule 2 times. She is still my little peanut weighing in at 16 lbs and is 25 inches long. She got a couple of shots so she has been cranky and her leg I can tell is sore. Two shots she has yet to get is the Hep. B and Hib, not really by choice, the pediatrician has been out since she was born and the hospital never gave her the Hep. B. When she went in for her first pediatrician visit the nurse gave her the Hep. A shot on accident, the pediatrician says it won't affect her in anyway. Here's to hoping!
My mom came over and watched Cameron and the Big boy, while I took Macy to her appointment.
She made this adorable ring toy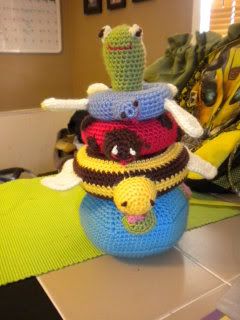 She's so talented!!
I was thinking of entering
this contest
over at
Ruffles and Stuff
.
Since St. Patrick's Day is coming I wanted to make Malaina something special to wear so I came up with this but I just don't think I can compete with some of the entries. The dress looks great on her but it is missing something up top, I was thinking of putting a saying but kind of generic so she can wear it all the time. I'm open to opinions! I'm willing to try freezer paper stenciling again but again I have no clue what type of design to put up there.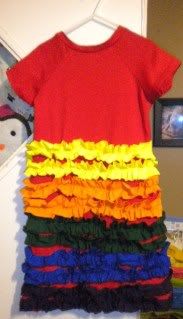 We added to our family yesterday! We got a dog and it has been CRAZY! It's alot to get use to. Today was his first full day here and he seems to be adjusting. He has taken a liking to me and he has enjoyed playing with the kids.
Today was an awesome fluffy mail day! I ordered
Katydid Cloth diapers
from
Babyhalf off
on Saturday, one of each color. They look gorgeous and are currently being prepped so we can try them out tomorrow.
Tomorrow I am watching Big Boy again, had today off which I HIGHLY needed! He was a handful yesterday. I called Chris several times at work and warned him about my bad mood for when he got home. Seriously I would go insane if any of my kids cried as much as he did. I have to say I have been pretty lucky but I do have some whiners which iguess is pretty much the same as crying, lol!
I would love to get some sewing in before Grey's Anatomy comes up which means I need to get off here and wash the dishes!