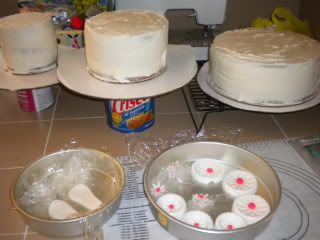 Yesterday I had to make 1 more layer of each tier, the cakes didn't look tall enough. I also started on making the daisies and the flip flops. This evening I will finish up the daisies and the flip flops.
This morning I made buttercream frosting. Yum! This stuff is delicious!
I took the cakes out of the freezer and immediately filled them with buttercream and crumb coated them. After a couple of hours I added more buttercream. The cakes will sit out over night and then get a layer of simple syrup brushed on before the fondant gets layed across each tier.
This is where it gets tricky...I have to keep a 4 year old and a 2 year old away from the dining table until the cakes are delivered. Should be fun times!