It typically takes me about 4 days to make a cake. I could probably make one in 2 days if I was kid free, HA that ain't happening! I took a peak at my Household Notebook where I jotted down my plan of action. I gave myself 2 days to make the cakes just incase I don't like the way they stack the following day, I have enough time to make an additional layer or two.
If you look closely you can see the cake I am replicating in the upper left corner.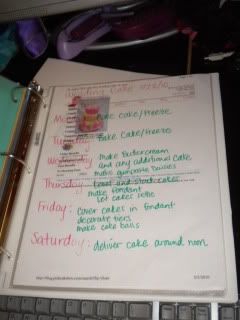 I started out by making
-2 12 inch round cakes
-2 8 inch round cakes(I don't like the way the 10 inch looks on top of the 12)
-2 6 inch round cakes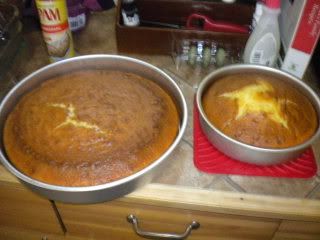 Once cooled and leveled out I layed freezer paper on the bottom and top of each layer and placed them in the freezer.
Later this evening I will wrap them completely in freezer paper, they are easier to handle with a chill on them. I surely wouldn't want one to crack in half on me, eeekk!