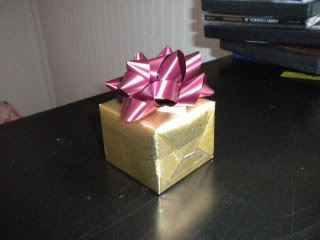 This morning I woke up to that lovely box above. It was a great start to the day. My wonderful Valentine got me 2 Pandora Bracelet Charms. This is what I usually get for a Holiday/Birthday/Surprise unless I specifically ask for something. This time he got me a frog and a bouquet of flowers. He doesn't go blindfolded into Saxons when picking these out, he has a book where I have circled what I want. So it's a pretty mindless but thoughtful gift.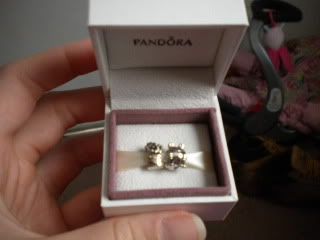 My husband went and got the kids breakfast at McDonalds which was a big treat for them. It is very rare that we eat out. There really isn't a need to when I am home most days, even if it's just a frozen pizza we eat at home.
My plans for the day where to go to Toys R Us to finally take part in the Big Trade In Event, BJ's for snack foods, and then Walmart. We are slowly learning our goal of getting shopping done in one trip isn't going to happen anymore.
We made it to Toys R Us, traded in 2 carseats got our 2 25% off coupons and proceeded to look around. We should know by now we can't browse, we will never be able to shop without a plan of action again! The kids behaved up until I wanted Anthoney my 4 year old to sit in a carseat to check the belts and make sure it was a good fit. They got inpatient and fidgety so I hurried and picked them out. I was very satisfied with saving $90! I have to say I am in love with the Graco Nautilus 3 in 1, I just wish I didn't have to get a convertible for Macy once she is out of the infant carrier. I would love to go straight to this but that isn't happening. In the next few weeks she will be getting the Graco My Ride from Wal Mart. They have a really pretty purple one I want to get.
When we left Toys R Us I quickly decided we were only going to Wal Mart which then switched to OH NO we are going home! Macy started screaming, so I had to sit awkwardly to feed her a bottle and she still continued to scream. Chris had to pull over so I could comfort her and make sure she was ok. After about 15 minutes we were on the road again and I knew we better go to Wal Mart just incase it snows again. We needed to replenish our snack food and get milk. We ened up spending way more than I would have liked. The kids tend to fluster my mind and I forget I have certain coupons.
We made it home after an exhausting afternoon and we enjoyed the rest of our Sunday together.
I have a few goals for this coming week. I would like to go through our pantry/freezers/fridge and finally get back to menu planning. My life is so much easier when I do this. I have plans to go through my kids toys and get rid of and give away what I know they aren't playing with. I want to go to Target and pick up blinds for the living/family room. I need to borrow a ladder from my parents so I can get in the attic and get down the kids Spring/Summer clothes. I need to go through them as I have hopes of making time to consign at an upcoming consignment sale.
This will be interesting to see what I actually get done this week. I plan on sharing some pictures of my home as I decorate each room, so stay tuned!