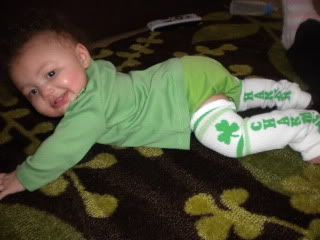 This morning we woke up and went to the Mall. It was actually a pretty good trip. I got to shop in Gymboree without the kids bothering me, they were kept pretty occupied with Chris. I kicked myself when I got home because I already had one of the shirts.
I have been stocking up in 6-12 month Spring/Summer clothes for Macy so I really have no clue what she has because I just throw things in a container as I get them. Something told me to look through the container when we got home. Not sure if it is worth the gas to go all the way to the Mall to return a $10 shirt. I may give it to my sister who has a 4 month old.
Chris's goal was to get shoes for the kids but they started getting fidgety so we ended up with only 2 kids getting shoes, one of which doesn't walk! Crib shoes are cute but in my opinion not worth the money but Chris insisted.
We did get our free pretzels from Aunt Annies, I believe this promotion ended at 3pm today.
When we got home, seems like always Chris has to go somewhere so then I get left with the kids. Seriously I should start marking this on the calendar because when brought to his attention he denies it. He had to go to the Hobby store to pick up his gas powered truck, I think it was getting repaired. I have no clue about that thing.
I got Macy to take a nap so I quickly whipped up 4 tiers of cake, frosting and fondant. Macy must have sensed I was done because she woke up almost immediately.
I put Macy in my
Piggy
Sack and I went through her clothes, she has so many. I want her to wear everything atleast once so I am constantly routing through them.
I also had time to make these baby
legwarmers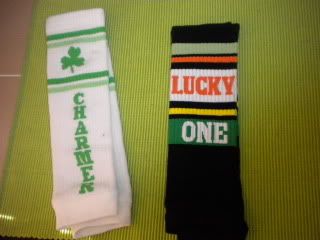 I had a comment about my diaper stash, so here it is.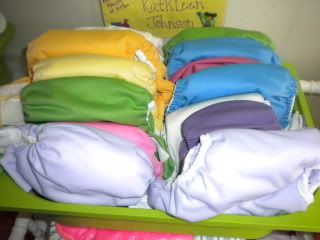 1 Dreame Eze, 1 Jamtot BerryPlush with 2 inserts, 2 Thirsties AIO, 2 Sposoeasy
2 BG 3.0, 3 BG Organic AIO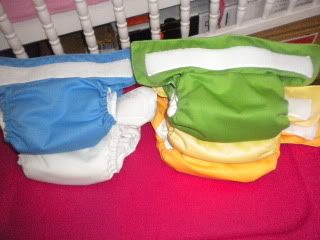 10 FLIP inserts, 6 GCloth, 2 gdiapers, 3 FLIP Covers I also have 2 pkgs of disposable FLIP inserts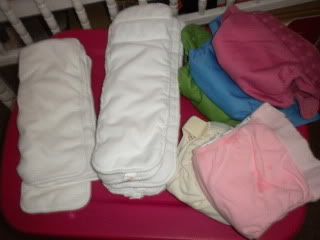 I had thought I reached stash nirvana but recently I am wanting to try more things, mainly all in one diapers but I am tempted to try a few pockets. My goal is to wash twice a week.